BOSTON, MA, Apr 3, 2023 – (ACN Newswire via SEAPRWire.com) – The RepTrak Company™, the world's leading reputation data and insights company, announces the results of its 2023 Global RepTrak® 100. The report is the world's most comprehensive study of corporate reputation, compiled for the past 13 years using RepTrak's in-depth analysis and ranking of the top 100 companies worldwide by Reputation Score.
Utilizing its advanced reputation monitoring software, RepTrak gathered data from more than 230,000 ratings globally to understand the public's perceptions of the most important elements of corporate reputation: ESG (Environmental/Social/Governance), workplace fairness, leadership, innovation, branding, and more.
Available today is the complete 2023 Global RepTrak 100® ranking and report, with comprehensive analysis of global, industry, and demographic trends, at https://www.reptrak.com/rankings/
This data shows how people think, feel and act towards particular companies and ranks those companies based on the RepTrak Reputation Score.
The continued downfall of corporate reputation
In 2022, the global RepTrak Reputation Score went down for the first time since 2018. In 2023, this decrease continued on a global scale, with global Reputation Scores settling at an average of 73.2, down from 74.2 in 2022.
"Even with corporate reputation down in 2023," says RepTrak CEO Mark Sonders, "Top 100 companies are exceptional in their efforts, rising up to intense and complex stakeholder expectations on ethical, supply chain, and workplace issues globally. There's always room for improvement, but Top 100 companies are leading the way."
ESG remains important but expectations are unmet
The global ESG score was also down this year. Each individual driver saw a significant decrease, with Environmental experiencing the biggest decline. RepTrak data has shown that perceptions of a company's leadership in ESG have a direct impact on purchase intent – the public's willingness to buy from a company goes from 20% with a weak ESG score to 60% with a high score.
"This year's ESG results serve as a reminder: it's not just about what you do, it's about how you do it," says Sonders. "ESG is only increasing in importance, affecting how we buy, trust, and recommend the brands we interact with."
Financial concerns are top of mind
As part of its reputation measurement and monitoring platform, RepTrak also measures the actions stakeholders are willing to take when considering, supporting, and engaging with a company, referred to as Business Outcomes. Business Outcomes Willingness to Buy, Willingness to Invest, and Willingness to Work For all experienced significant decreases in 2023 demonstrating a clear frustration with the current economic state. Inflation is being felt on a global scale.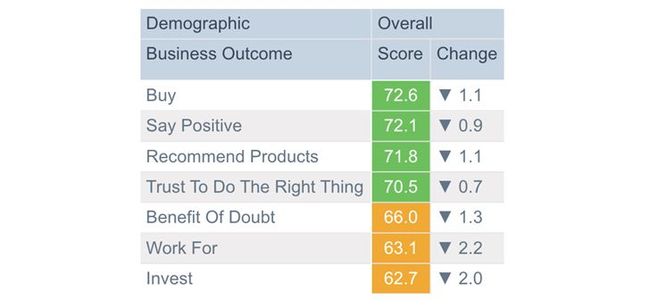 "The combination of a global decrease in reputation paired with an unpredictable financial landscape has stakeholders nervous to interact with brands," warns Mark Sonders. "How organizations manage their approach to a potential recession will impact stakeholders beyond 2023."
2022's Reputation Leaders
The top 10 companies by Reputation Score, as ranked in the 2023 Global RepTrak® 100, are:
The LEGO Group
The Bosch Group
Rolls-Royce Aerospace
Harley-Davidson, Inc.
Canon
Rolex SA
Miele
Sony
Nintendo
Mercedes-Benz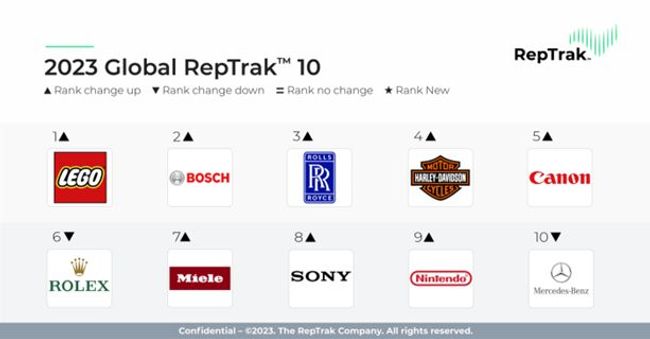 The LEGO Group is the World's Most Reputable Company in 2023, but this is not their first #1 ranking. They achieved RepTrak's #1 spot in 2020 and 2021, dropped to #3 in 2022, and now they've returned. Although their Reputation Scores have decreased, a well-rounded approach to supporting the world of play, combined with a dedicated focus to ethical practices makes them a global reputation favorite.
"I am very honored that the LEGO Group has been named the World's Most Reputable Company in 2023," says Niels B. Christiansen, CEO of the LEGO Group. "This reflects the unwavering passion and commitment of our colleagues to help keep our promises during a year shaped by significant challenges. Children are our role models and inspire us to make choices that make their future world better. This means not only innovating LEGO play but also constantly striving to have a positive impact on environment and society."
The IKEA Group experienced a notable increase rank in 2023, landing at #24 on this year's list, up from #52 in 2022. With a 0.9-point increase in Reputation Score and a 1.0-point increase in their Products & Services Score, an indicator of their price-friendly utility in the face of inflation. Inflation remains a top concern internationally, with global average Products & Services Scores down from 1.0-point from 2022, with particular concern on quality for value.
Workplace concerns persists
As a Reputation Driver, Workplace decreased to the lowest Score amongst Drivers in 2023. Widespread layoffs have individual RepTrak Reputation factors including "equal opportunities in the workplace," "rewards employees fairly," and "concerned for employee well-being," decreasing significantly.
When respondents were asked What actions do you want companies to prioritize during a recession? Their top priority was "[Avoiding] staff layoffs."
But layoffs haven't lowered employment standards established during the Great Resignation. As part of our Business Outcomes, RepTrak measures Willingness to Work For. In 2023, Work For Scores have decreased. Even in the face of unemployment, worker scrutiny has not let up. It is important for employers to maintain fair and attractive employee benefits, especially as inflation erodes workers' purchasing power.
"As the Great Resignation concluded and massive layoffs began, both workers and customers want their favorite brands to be good employers," explains Sonders. "RepTrak data demonstrates a lot is wrong in the world of work, but avoiding layoffs in the face of recession is key in the eyes of stakeholders."
Additional notable findings:
Reputation was down across industries and across organizations. Results at the individual company level show the same: company scores in the Global RepTrak Top 10 and Top 100 have lower scores than in 2022.
Brand Scores have also decreased, suggesting that branding efforts are losing their way.
Notable increases in rank include Booking.com (+43), Hewlett Packard (+42), Novartis (+32), Honda Motor Company (+31), and Aldi GmbH & Co. KG (+31)
Baby Boomers are the most optimistic generation studied, while Millennials experienced the largest YoY Reputation Score decrease, and Gen Z seems to have settled further into their corporate pessimism
Report and Methodology
RepTrak helps companies understand how stakeholders feel, think, and act towards them, measuring Reputation using a 0-100 scale and tracking how a company is perceived across several Reputation drivers: Products & Services, Innovation, Citizenship, Performance, Governance, Leadership and Workplace. RepTrak's proprietary measurement system has been developed to allow worldwide application on a normative scale, which enables direct comparison regardless of sector, size, or geography.
For consideration in the 2022 Global RepTrak® 100, a company had to meet the following criteria:
Be a corporate brand with global revenue above USD $2 billion
Achieve a global average familiarity threshold above 20 percent in all fourteen countries measured and a familiarity threshold above 20 percent in seven or more of the fourteen countries measured
Reach a qualifying Reputation Score above the median score (i.e., 67.3 points)
To determine the ranking, The RepTrak Company analyzed Reputation data for several thousand companies which was collected between December 2022 and January 2023 using world-class survey methodology and was enriched by RepTrak's historical database. Companies that met these criteria were then ranked based on their global Reputation Scores. A company's corporate Reputation is determined using RepTrak's proprietary and patent-pending Reputation Score – a score from 0-100 that measures how people feel towards a particular company. Reputation Scores demonstrate a strong positive relationship with business outcomes, such as an audience's willingness to buy, recommend, or trust a company. The top 100 companies with the highest Reputation Scores made the final ranking.
The Global RepTrak® 100 ranking is based on more than 230,000 ratings collected across the 14 largest economies globally using online surveys. For access to the report, visit https://www.reptrak.com/rankings/
About RepTrak
The RepTrak Company™ is the world's leading Reputation data and insights company. We provide the only global platform for data-driven insights on Reputation, Brand, and ESG. Our proprietary RepTrak® model is the global standard for measuring and analyzing the sentiment of the world using proven data science models and machine learning techniques across industries and geographies.
Subscribers to the RepTrak® Program use our predictive insights to protect business value, improve return on investment, and increase their positive impact on society.
Established in 2004, The RepTrak Company owns the world's largest Reputation benchmarking database of over 1 million company ratings per year used by CEOs, boards, and executives in more than 60 countries worldwide. For more information, please visit www.reptrak.com.
Contact:
Ali Jawin
pr@reptrak.com
SOURCE: The RepTrak Company
Copyright 2023 ACN Newswire. All rights reserved. (via SEAPRWire)