Encouraging Students to Strive for Excellence
Nurturing Food Science Talent for Future Generations
HONG KONG, Jan 18, 2023 – (ACN Newswire) – Nissin Foods Company Limited ("Nissin Foods", and together with its subsidiaries, the "Group"; Stock code: 1475) has announced the launch of the Nissin Foods Scholarship for Food and Nutritional Sciences students by Nissin Foods (Hong Kong) Charity Fund ("Charity Fund") and The Chinese University of Hong Kong ("CUHK").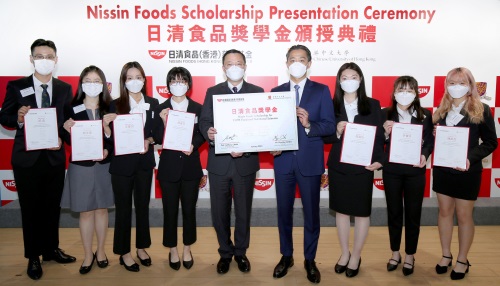 The scholarship aims to encourage undergraduate and postgraduate students of CUHK's Food and Nutritional Sciences (Hons) programme to pursue academic excellence. The seven scholarship recipients for the 2022-2023 academic year are: CHAN Hoi Yi, HSU Po Ling, KWAN Ka Yi, LAM Shuk Fan, WONG Wai Yee from the Bachelor's degree programme, and KEI Nelson, LIN Yuhong from the Ph.D programme. The full scholarship is provided by Charity Fund and will be used to pay for tuition fees for eligible students.
Mr. Kiyotaka ANDO, Chairman of Nissin Foods (Hong Kong) Charity Fund, said, "At Nissin Foods, we believe that "food-related jobs are sacred profession", because food supports life. Charity Fund is pleased to collaborate with CUHK for the launch of Nissin Foods Scholarship for Food and Nutritional Sciences students. We share similar value in nurturing outstanding and caring food and nutrition professionals, who would contribute to the development of the food industry in Hong Kong as well as to the Hong Kong society at large. We believe that by cultivating a healthy lifestyle through food, a new crop of food and nutrition professionals will emerge to carry on the Team Nissin spirit – passing it on from one generation to the next."
Professor Anthony CHAN, Pro-Vice-Chancellor and Vice-President of CUHK, expressed his sincere gratitude for the generosity of the Charity Fund, saying, "The university feels privileged that we share the same vision of innovation as the Nissin Foods (Hong Kong) Charity Fund. Nurturing talent and sparing no effort to provide them with fertile ground to grow and strive for innovation has always been CUHK's top priority. With this aspiration in mind, CUHK seeks to work closely with reliable partners in the promotion of higher education and in providing ample opportunities for students."
Mr. Nelson KEI, representative of the recipients expressed his gratitude to Charity Fund and CUHK for establishing the Nissin Foods Scholarship and presented a letter of appreciation to the representative of Charity Fund at the ceremony. He said: "The Nissin Foods Scholarship means so much to me because it helps us realise our dreams, and also motivates us to continue to pursue excellence in our studies."
About Nissin Foods (Hong Kong) Charity Fund
The Nissin Foods (Hong Kong) Charity Fund ("Charity Fund") was set up in September 2020 by way of a trust deed by Nissin Foods Company Limited (Stock code: 1475). The objectives of the Charity Fund are: a) to advance education, teaching, learning, arts, science and academic research; b) to make provision for people in need; and c) to carry out works of a charitable nature that are beneficial to the Hong Kong community.