HONG KONG, May 24, 2023 – (ACN Newswire via SEAPRWire.com) – SmartHK, a flagship event of the Guangdong-Hong Kong Cooperation Week, drew about 2,000 business elites to Guangzhou today, boosting cooperation between Hong Kong and the mainland centres of the Guangdong-Hong Kong-Macao Greater Bay Area (GBA).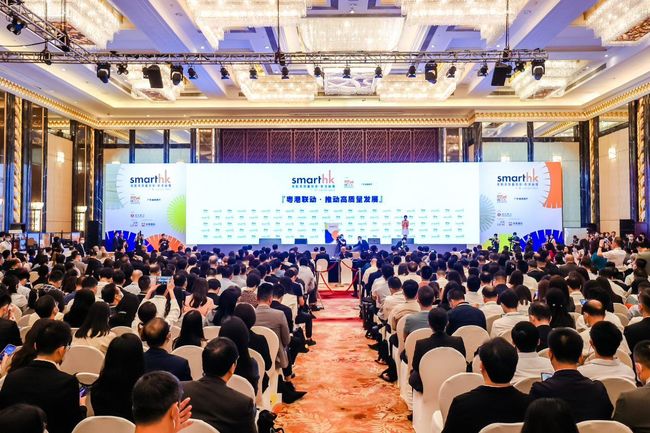 SmartHK was successfully held at the Shangri-La Hotel in Guangzhou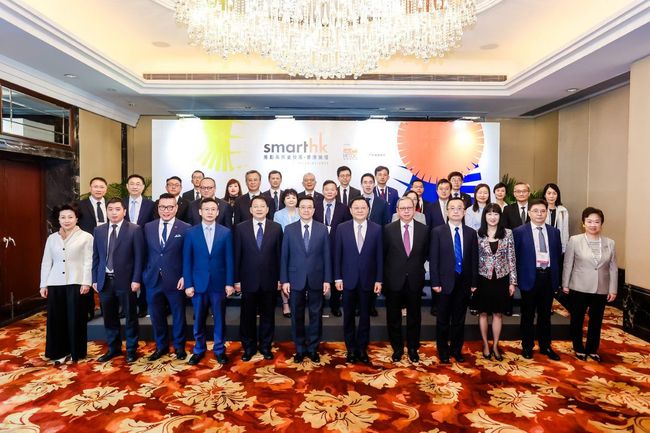 Mr John Lee, Chief Executive of the HKSAR (6th L), Mr Wang Weizhong, Governor of Guangdong
Province (7th L) , Mr Yin Zonghua, Deputy Director of the Liaison Office of the Central People's
Government in HKSAR (5th L), Dr Peter K N Lam, Chairman of the HKTDC (5th R) and
Ms Margaret Fong, Executive Director of the HKTDC (3rd R)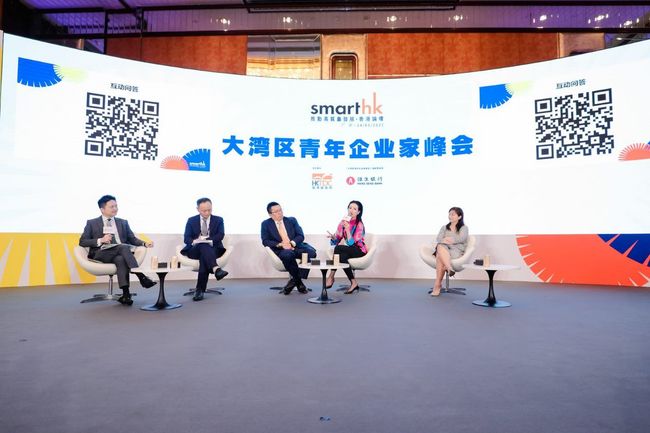 The GBA Youth Entrepreneur Summit, exclusively sponsored by Hang Seng Bank, gathered scientific
research entrepreneurs, Young Entrepreneur Summit and venture-capital fund managers from the GBA
to promote talent exchanges and discuss the entrepreneurial opportunities and challenges in the GBA
The conference, organised by the Hong Kong Trade Development Council (HKTDC) and Guangdong Provincial Department of Commerce, featured an exhibition area and start-up pitching sessions as well as on-site business matchmaking to facilitate connections between companies from Hong Kong and Guangdong. Hong Kong-Guangdong Cooperation Week runs from today to 7 June in the GBA, accelerating collaboration and exchange among Hong Kong and Guangdong government departments, organisations, chambers of commerce and trade associations through more than 20 business and trade activities across GBA cities.
Mr John Lee, Chief Executive of the Hong Kong Special Administrative Region (HKSAR), Mr Wang Weizhong, Governor of Guangdong Province, and Dr Peter K N Lam, Chairman of the HKTDC, presided over the opening ceremony of Guangdong-Hong Kong Cooperation Week and SmartHK earlier today.
Mr Lee said: "The development of the GBA, which was personally planned, deployed and advocated by President Xi Jinping, is a key development strategy for the reform and development of the country in the new era, and the best entry point for Hong Kong to better integrate into the overall development of the country." He also pointed out, "full resumption of normal travel between Hong Kong and Mainland China meant the flow of people between Hong Kong and Guangdong had resumed and the 'one-hour living circle' in the GBA had made same-day travel very convenient. My team and I would make frequent visits to the GBA to promote interconnection and interoperability, advancing quality development and facilitating Hong Kong's active integration into the overall development of the country."
Dr Lam pointed out that Hong Kong's development had been closely tied with that of Guangdong for many years. As two core GBA cities, Hong Kong and Guangzhou had long maintained close cooperation and complemented each other's advantages in various fields, such as finance, innovation and technology and the creative sector.
Mr Wang hoped the business communities of Guangdong and Hong Kong could fully leverage this forum and the Guangdong-Hong Kong Cooperation Week to further promote high-level economic and trade cooperation and high-quality development between the two regions. He encouraged Hong Kong entrepreneurs to boost cooperation with Guangdong in areas such as technological innovation, advanced manufacturing, modernised services and MICE (meetings, incentives, conferences and exhibitions) tourism. He also urged greater investment in Guangdong, especially in the eastern, western, and northern parts of the province, and active collaboration with Guangdong enterprises to explore international markets. Guangdong would strive to create a market-oriented, rule-of-law-based, and internationally oriented business environment, provide excellent conditions and first-class services for domestic and foreign investors, including Hong Kong enterprises. Guangdong would strongly support and actively promote high-quality development of Hong Kong and support Hong Kong's better integration into national development. Guangdong was committed to making efforts and contributions to ensure the stable, long-term implementation of the One Country, Two Systems principle.
Top of Form
Exploring the road to high-quality development
Following the opening ceremony, the thematic sharing forum discussed professional strengths of Hong Kong and other GBA cities. Mr Adam Kwok, Executive Director of Sun Hung Kai Properties Limited, Dr Levin Wang, CEO of Huatai Financial Holdings (Hong Kong) Limited, Mr Ronald Lam, CEO of Cathay Pacific Group and Mr Xu Shaochun, Chairman and CEO of Kingdee International Software Group Company Limited, discussed opportunities GBA development brought from four perspectives – co-constructing a sustainable city development model; creating a dual system of finance and technology innovation; developing a high-quality aviation industry and collaborating with Hong Kong for global business expansion.
Subsequent forums co-organised by the HKTDC and partners, such as InvestHK, Hong Kong Monetary Authority, HKSAR Development Bureau and the Hong Kong Construction Industry Council, focused on cross-border asset management, green finance, sustainable urban living, green & smart building technologies and more.
Building a talent hub
To further address the importance of fostering talents and respond to the national strategy of supporting youth development, SmartHK introduced the GBA Youth Entrepreneur Summit, exclusively sponsored by Hang Seng Bank, which assembled scientific research entrepreneurs, young entrepreneur and venture capital fund managers from the GBA. Mr Fang Xin, COO of EHang, Mr Zhan Peixun, Co-founder and CSO of Shenzhen Unity-Drive Innovation Technology Co, Ltd, Ms Edith Law, Director of Fashion Farm Foundation, and Prof Karen Chan, Executive Director of German Pool Group Co, Ltd, discussed entrepreneurial opportunities and challenges in the GBA.
The successful Smart+ start-up pitching event returned and continued to focus on research and enterprise collaboration, creating opportunities for start-ups to introduce projects and thereby break into the GBA market. The 17 candidates came from The Chinese University of Hong Kong, Hong Kong Cyberport Management Company Limited, Sino Inno Lab and the HKTDC's Start-up Express, covering AI and blockchain, medical and health, and new ESG technologies and materials.
Driving complementarity with innovation
The five exhibition zones featured 70 Hong Kong companies from professional services, technological innovation, industry & academic research, creative design and other sectors introducing Hong Kong's professional services, and providing on-site business matching services and one-on-one opportunities for Hong Kong exhibitors and GBA enterprise representatives to deepen exchanges explore new partnerships.
In the form of short talks, SmartHK's debut GBA Live Studio aimed to extend the event to other GBA cities and enable online participation. The conversations helped audiences to better understand the ways in which Hong Kong's professional services could help them achieve high-quality development.
Tomorrow, on 25 May, an HKTDC-organised delegation will further explore Guangzhou to gain a better understanding of the latest developments in the digital economy. It will explore opportunities in innovation and technology and related industries to accelerate multi-level Hong Kong-Guangdong cooperation in the fields of economy, technology and finance between.
The HKTDC has proactively advocated cooperation between Hong Kong and Guangdong and Hong Kong's integration in the GBA. The annual SmartHK launched in 2011 as a flagship event in mainland cities such as Chengdu, Fuzhou, Jinan and Nanjing to create business opportunities for local and mainland enterprises.
Another flagship Guangdong-Hong Kong Cooperation Week, Chic HK, will be held from tomorrow to 28 May in Shenzhen to promote Hong Kong's professional services and fashion brands to the business community and public in the GBA.
The HKTDC also plans a brand-new public exhibition CHILL11 at AsiaWorld-Expo in Hong Kong, promoting Hong Kong's cultural and creative industries, particularly design, music, and digital entertainment, to enhance cultural exchange within the GBA and promote Hong Kong as a cultural and creative hub.
SmartHK: https://portal.hktdc.com/smarthk/
Hong Kong-Guangdong Cooperation Week: https://gdhkcooperationweek.hktdc.com/
Media Room HKTDC: http://mediaroom.hktdc.com
Photo download: https://bit.ly/3OAyJEg
About HKTDC
The Hong Kong Trade Development Council (HKTDC) is a statutory body established in 1966 to promote, assist and develop Hong Kong's trade. With 50 offices globally, including 13 in Mainland China, the HKTDC promotes Hong Kong as a two-way global investment and business hub. The HKTDC organises international exhibitions, conferences and business missions to create business opportunities for companies, particularly small and medium-sized enterprises (SMEs), in the mainland and international markets. The HKTDC also provides up-to-date market insights and product information via research reports and digital news channels. For more information, please visit: www.hktdc.com/aboutus. Follow us on Twitter @hktdc and LinkedIn
Media Enquiries
HKTDC's Communications & Public Affairs Department:
Eric Wong, Tel: +852 2584 4575, Email: eric.ks.wong@hktdc.org
Sunny Ng, Tel: +852 2584 4514, Email: sunny.sl.ng@hktdc.org
Copyright 2023 ACN Newswire. All rights reserved. (via SEAPRWire)